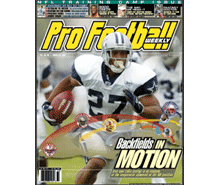 PFW Online: Vol. 19, Issue 07
Published: 2004-08-16
Cover Date: August 23, 2004
This is the second installment of training-camp reports for this season.
NFL backs running around
More than half of the league's teams will feature radically altered backfields in 2004, with at least 10 clubs expected to have new starting running backs. Join us for a team-by-team look at the RB situations in the NFL.
Take a tour of training camps
PFW names a veteran to watch, a player on the verge of breaking through and the strongest and weakest positions of each club as we take an updated look at training camps.
Humanitarian of the Year Award
Titans DE Kevin Carter believes in giving back to the communities that have given so generously to him. We profile this true NFL hero.
The Doctor is in!
PFW's resident fantasy football expert answers thought-provoking questions from our readers, who are gearing up for draft time.
Columnists
Don Pierson
Ron Borges
Jerry Magee
Departments
The Way We Hear It
Feature: Corey Dillon
Feature: Kevan Barlow
Feature: Training-camp injuries
Q&A with Shannon Sharpe
Feature: AstroTurf's final days?
Preseason game coverage
Canadian Football League
Audibles
NFL transactions
PFW Slant with Dan Arkush
PFW Online
PFW Online is the electronic version of our Pro Football Weekly print newsmagazine.
We publish 30 issues throughout the year, weekly during the season and monthly during the offseason, and these issues are made available to PFW Online members in PDF format.
Since our electronic edition is always available by 7 p.m. ET on the day that it's published, it's your fastest way to get an issue of Pro Football Weekly.
You'll have access to everything in our print edition in the same familiar look and feel, plus a fully-searchable and easy way to enjoy it.