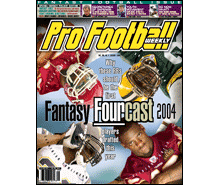 PFW Online: Vol. 19, Issue 06
Published: 2004-08-02
Cover Date: August 2004
This is the second fantasy football issue of the season.
Fantasy football section
The Fantasy Buzz
Q&A with the Fantasy Doctor
Draft board
Eight burning questions
Column:Valuable mock lessons
IDP, team defense rankings
Twelve-team mock draft
Skill-position value charts
Getting defensive
Five former NFL head coaches have taken up residence in different cities and are charged with overhauling the defenses of their new teams. What's in store for these men in Detroit, San Diego, Kansas City, Pittsburgh and Washington?
Headed for the Hall of Fame
A look back at the careers of John Elway, Barry Sanders, Carl Eller and Bob Brown — members of the Pro Football Hall of Fame's Class of 2004.
Emerging stars revitalize position
Thanks to athletic players such as Tony Gonzalez, Todd Heap, Jeremy Shockey and Kellen Winslow, the TE position is becoming a focal point on offense.
Columnists
Ken Bikoff
Jerry Magee
Glenn Dickey
Barry Jackson
Departments
The Way We Hear It
Audibles
Canadian Football League
NFL transactions
First-rounders' signing chart
PFW slant with Dan Arkush
PFW Online
PFW Online is the electronic version of our Pro Football Weekly print newsmagazine.
We publish 30 issues throughout the year, weekly during the season and monthly during the offseason, and these issues are made available to PFW Online members in PDF format.
Since our electronic edition is always available by 7 p.m. ET on the day that it's published, it's your fastest way to get an issue of Pro Football Weekly.
You'll have access to everything in our print edition in the same familiar look and feel, plus a fully-searchable and easy way to enjoy it.