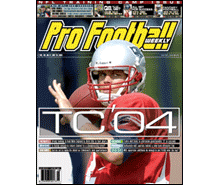 PFW Online: Vol. 19, Issue 05
Published: 2004-07-12
Cover Date: July 19, 2004
This is the first installment of training-camp reports for this season.
2004 training-camp reports
PFW takes you around the league with capsule previews of all 32 teams. Get the scoop on each team's top position battle, reason for optimism and cause for concern, along with a prediction for the upcoming season.
Mora's Falcons ready to soar
Associate editor Jeff Reynolds profiles Atlanta head coach Jim Mora as he follows in his father's footsteps. Plus, capsule looks at this season's six other new coaches.
QB battle sites: Oakland, Dallas
It's Rich Gannon vs. Kerry Collins in Oakland while Vinny Testaverde is in Big "D" for one reason: to pry away the starting job from Quincy Carter.
Expectations high in Seattle
The Seahawks are this summer's chic pick to go to the Super Bowl. But, are they ready to take the next step?
Columnists
Ken Bikoff
Reggie Rivers
Bill Wallace
Mike Holbrook
Departments
The Way We Hear It
Canadian Football League
Audibles
Arena Football League
First-rounders' signing chart
NFL transactions
PFW slant with Dan Arkush
Ask the Experts
The Buzz
PFW Online
PFW Online is the electronic version of our Pro Football Weekly print newsmagazine.
We publish 30 issues throughout the year, weekly during the season and monthly during the offseason, and these issues are made available to PFW Online members in PDF format.
Since our electronic edition is always available by 7 p.m. ET on the day that it's published, it's your fastest way to get an issue of Pro Football Weekly.
You'll have access to everything in our print edition in the same familiar look and feel, plus a fully-searchable and easy way to enjoy it.