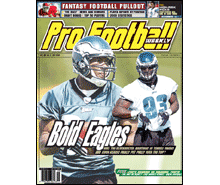 PFW Online: Vol. 19, Issue 04
Published: 2004-06-21
Cover Date: July 2004
This is the first fantasy football issue of the season.
Fantasy football section
2004 player analysis
2004 basic-scoring draft board
The Buzz
2003 statistics
Philly gets starstruck
The Eagles took a different tack this offseason, shelling out millions of dollars to acquire high-profile stars WR Terrell Owens and DE Jevon Kearse, in their attempts to finally get to the Super Bowl.
Colts hopeful of 'Super' run
With QB Peyton Manning signed, sealed and delivered for a record contract, the Colts are pinning their Super Bowl hopes on "the Triplets" and a youthful supporting cast.
Waiting for the big payoff
Jeff Reynolds examines five up-and-coming quarterbacks, each of whom was a first-round pick, whose teams have playoff aspirations in 2004.
'The Slant' by Dan Arkush
GM Terry Donahue discusses the 49ers' rebuilding project and disputes the idea that the team will be as bad as people think.
Columnists
Nolan Nawrocki
Jerry Magee
Glenn Dickey
Barry Jackson
Bob Carroll
Departments
The Way We Hear It
Free-agency update
NFL Europe
Arena Football
CFL
Audibles
PFW Online
PFW Online is the electronic version of our Pro Football Weekly print newsmagazine.
We publish 30 issues throughout the year, weekly during the season and monthly during the offseason, and these issues are made available to PFW Online members in PDF format.
Since our electronic edition is always available by 7 p.m. ET on the day that it's published, it's your fastest way to get an issue of Pro Football Weekly.
You'll have access to everything in our print edition in the same familiar look and feel, plus a fully-searchable and easy way to enjoy it.