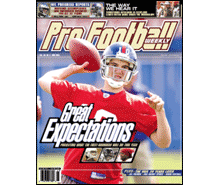 PFW Online: Vol. 19, Issue 03
Published: 2004-05-24
Cover Date: June 2004
This is the offseason team reports issue.
Writing their rookie chapters
Each NFL team has high hopes for its 2004 rookie class. We project how all 32 first-round picks will fit in with their new teams, with an expanded look at Eli Manning, Larry Fitzgerald, Philip Rivers and Sean Taylor.
Offseason progress reports
As usual, the offseason has been packed with activity. Fresh faces will be featured in new places, all in hopes of improving fortunes for the 2004 season.
Free-agency update
Who will be among this year's crop of post-June 1 salary-cap casualties? We point out the highest-profile players headed for the open market.
Lasting legacy
A nostalgic look at the USFL, the spring league that played only three seasons but had a profound effect on the NFL.
Columnists
Eric Edholm
Don Pierson
Jerry Magee
Ron Borges
Departments
The Way We Hear It
CFL season preview
NFL Europe
Arena Football League
Audibles
NFL transactions
The Slant with Dan Arkush
PFW Online
PFW Online is the electronic version of our Pro Football Weekly print newsmagazine.
We publish 30 issues throughout the year, weekly during the season and monthly during the offseason, and these issues are made available to PFW Online members in PDF format.
Since our electronic edition is always available by 7 p.m. ET on the day that it's published, it's your fastest way to get an issue of Pro Football Weekly.
You'll have access to everything in our print edition in the same familiar look and feel, plus a fully-searchable and easy way to enjoy it.