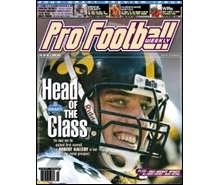 PFW Online: Vol. 19, Issue 01
Published: 2004-03-22
Cover Date: April 2004
This is the issue for the NFL draft preview.
2004 NFL draft
Robert Gallery: A can't-miss prospect
Player reports
Player printout
Team needs
Mock draft
NFL draft order
NFL Europe preview
PFW takes a look at the NFL's developmental league, which gets under way in early April.
We unveil our updated top 100 free-agent list and chart all the movement that has taken place in the first month of the 2004 signing period.
Columnists
Mike Wilkening
Bill Wallace
Reggie Rivers
Ron Borges
Departments
The Way We Hear It
Arena Football coverage
Audibles
NFL transactions
The Slant with Dan Arkush
PFW Online
PFW Online is the electronic version of our Pro Football Weekly print newsmagazine.
We publish 30 issues throughout the year, weekly during the season and monthly during the offseason, and these issues are made available to PFW Online members in PDF format.
Since our electronic edition is always available by 7 p.m. ET on the day that it's published, it's your fastest way to get an issue of Pro Football Weekly.
You'll have access to everything in our print edition in the same familiar look and feel, plus a fully-searchable and easy way to enjoy it.