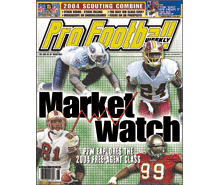 PFW Online: Vol. 18, Issue 30
Published: 2004-02-26
Cover Date: March 2004
This is the issue for the free agency preview.
Free agency
Overview
Top 100 free agents
Team reports
Franchise/transition tag formulas
free-agent list
Combine coverage
Get the lowdown on all of the happenings during the NFL's annual Scouting Combine in Indianapolis, including which players helped themselves the most.
Long and winding road
QB Ricky Ray found success north of the border in the CFL. Now he's committed to making an impact at a higher level — in the NFL.
From Leonard Davis to John Elway, the Arena Football League is attracting some of the NFL's biggest names.
Columnists
Jeff Reynolds
Jerry Magee
Barry Jackson
Glenn Dickey
Jim Campbell
Departments
The Way We Hear It
Audibles
Pro Bowl coverage
NFL transactions
2004 draft order
PFW Slant with Dan Arkush
PFW Online
PFW Online is the electronic version of our Pro Football Weekly print newsmagazine.
We publish 30 issues throughout the year, weekly during the season and monthly during the offseason, and these issues are made available to PFW Online members in PDF format.
Since our electronic edition is always available by 7 p.m. ET on the day that it's published, it's your fastest way to get an issue of Pro Football Weekly.
You'll have access to everything in our print edition in the same familiar look and feel, plus a fully-searchable and easy way to enjoy it.