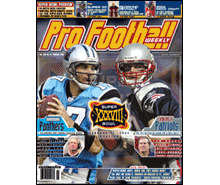 PFW Online: Vol. 18, Issue 28
Published: 2004-01-19
Cover Date: February 2004
This is the issue for the Super Bowl XXXVIII preview and conference championship game coverage.
Your guide to Super Bowl XXXVIII
Editors' Super Bowl predictions
Super Bowl game preview
A closer look at the Patriots
A closer look at the Panthers
Super Bowl rosters and depth charts
Statistics for Panthers and Patriots
Super Bowl records and history
Best in the biz
Who were the best players in the NFL in 2003? PFW's Super 50 rankings will give you the skinny on the premier performers.
Wondering what Bart Starr or Chuck Howley are up to? We update you on what all of the past Super Bowl MVPs are doing now.
An early look at how the first round of next April's NFL draft may shake out.
Indoor wars
A preview of the Arena Football League's season, which kicks off Feb. 5.
Columnists
Keith Schleiden
Barry Jackson
Trent Modglin
Jerry Magee
Glenn Dickey
Departments
The Way We Hear It
Q&A with Patriots CB Ty Law
Publisher's commentary
Question of the Week: Favorite Super Bowl memories
Feature: Hall of Fame finalists
Handicapper's Corner
Senior Bowl preview
Feature: The next TV contract
PFW's annual Griddy Awards for sports broadcasting
AFC, NFC title-game coverage
NFList: Best scouting departments
Audibles
Draft order
NFL transactions
The Slant with Dan Arkush
PFW Online
PFW Online is the electronic version of our Pro Football Weekly print newsmagazine.
We publish 30 issues throughout the year, weekly during the season and monthly during the offseason, and these issues are made available to PFW Online members in PDF format.
Since our electronic edition is always available by 7 p.m. ET on the day that it's published, it's your fastest way to get an issue of Pro Football Weekly.
You'll have access to everything in our print edition in the same familiar look and feel, plus a fully-searchable and easy way to enjoy it.