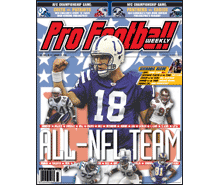 PFW Online: Vol. 18, Issue 27
Published: 2004-01-12
Cover Date: January 19, 2004
This is the issue for conference championship previews and divisional playoff game coverage.
All-NFL team
Most Valuable Player
Defensive MVP
Coach of the Year
Rookie of the Year
Defensive Rookie of the Year
Golden Toe
All-Conference teams
All-Rookie team
Comeback Player of the Year/Most Improved Player
Executive of the Year
Assistant Coach of the Year
On the clock
Preparing for the April draft: Chargers' draft plans ... Raiders' draft plans ... Cardinals' draft plans ... Giants' draft plans ... Draft plans for the other 28 teams
Columnists
Eric Edholm
Jerry Magee
Ron Borges
Bill Wallace
Reggie Rivers
Departments
The Way We Hear It
Q&A with Peyton Manning
Feature: Hiring a head coach
Handicapper's Corner
Conference championship game previews
Divisional playoff coverage
Scout's Notebook
NFList
Audibles
NFL transactions
NFL draft order
The Slant with Dan Arkush
PFW Online
PFW Online is the electronic version of our Pro Football Weekly print newsmagazine.
We publish 30 issues throughout the year, weekly during the season and monthly during the offseason, and these issues are made available to PFW Online members in PDF format.
Since our electronic edition is always available by 7 p.m. ET on the day that it's published, it's your fastest way to get an issue of Pro Football Weekly.
You'll have access to everything in our print edition in the same familiar look and feel, plus a fully-searchable and easy way to enjoy it.