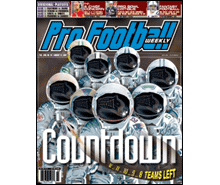 PFW Online: Vol. 18, Issue 26
Published: 2004-01-05
Cover Date: January 12, 2004
This is the issue for divisional playoff previews and wild-card game coverage.
Coaching carousel
Seven NFL franchises currently are seeking their next head coach. Get the skinny on where each search is at, plus a comprehensive list of coaching candidates.
What do last year's Super Bowl combatants — the Buccaneers and Raiders — have to do to get back in the playoffs next season?
Pro Bowl critique
We break down the Pro Bowl voting results and let you know which players deserve their trip to Hawaii and which don't.
A chief concern
Kansas City started off the season 9-0, inspiring serious Super Bowl chatter in the Show-Me State. But several defensive meltdowns, especially stopping the run on the road, have given rise to talk that the Chiefs could have a rocky playoff run.
Columnists
Trent Modglin
Jerry Magee
Glenn Dickey
Barry Jackson
Bob Carroll
Departments
The Way We Hear It
NFList: Top coordinating jobs
Handicapper's Corner
Divisional playoff previews
The Fantasy Doctor's 2003 All-Pro Team
Early 2004 fantasy draft board
Scout's Notebook: Eagles LB Mark Simoneau
Wild-card game coverage
Individual statistics
NFL team statistics
NFL team rankings
Audibles
NFL transactions
Draft order
2004 schedule of opponents
The PFW Slant with Dan Arkush
PFW Online
PFW Online is the electronic version of our Pro Football Weekly print newsmagazine.
We publish 30 issues throughout the year, weekly during the season and monthly during the offseason, and these issues are made available to PFW Online members in PDF format.
Since our electronic edition is always available by 7 p.m. ET on the day that it's published, it's your fastest way to get an issue of Pro Football Weekly.
You'll have access to everything in our print edition in the same familiar look and feel, plus a fully-searchable and easy way to enjoy it.