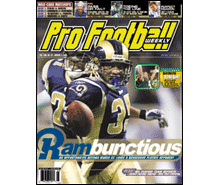 PFW Online: Vol. 18, Issue 25
Published: 2003-12-29
Cover Date: January 5, 2004
This is the issue for wild-card previews and Week 17 game coverage.
Long known for their explosive offense, the Rams are making headlines for their defensive play this year. With an aggressive style that has led to 44 takeaways, St. Louis boasts one of the most opportunistic defenses in the NFL.
Kickin' Canadian
Mike Vanderjagt received a ton of press in the offseason for his unkind remarks about Peyton Manning. Now, the Colts' kicker is getting pub for all the right reasons.
Playoff prospectus
Capsules on each of the 12 postseason combatants, which are ranked based on the order of our playoff power rankings.
Grading the coaches
With the 2003 regular season in the books, PFW evaluates the job performance of all 32 NFL head coaches.
Columnists
Ken Bikoff
Jerry Magee
Ron Borges
Don Pierson
Departments
The Way We Hear It
Feature: Best wideouts at making the sideline catch
Handicapper's Corner
Wild-card game previews
Fantasy football: Postseason draft board
Fantasy feature: Grading the QBs
Fantasy statistics
Week 17 game coverage: NFL standings; Players of the Week; Game-day review; On location; Question of the Week
Game statistics
Scout's Notebook: Ty Law
Individual statistics
NFL team statistics
NFL team rankings
NFList
Audibles
NFL transactions
The Slant with Dan Arkush
PFW Online
PFW Online is the electronic version of our Pro Football Weekly print newsmagazine.
We publish 30 issues throughout the year, weekly during the season and monthly during the offseason, and these issues are made available to PFW Online members in PDF format.
Since our electronic edition is always available by 7 p.m. ET on the day that it's published, it's your fastest way to get an issue of Pro Football Weekly.
You'll have access to everything in our print edition in the same familiar look and feel, plus a fully-searchable and easy way to enjoy it.