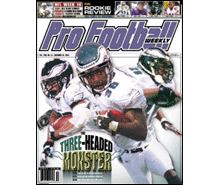 PFW Online: Vol. 18, Issue 24
Published: 2003-12-22
Cover Date: December 29, 2003
This is the issue for Week 17 previews and Week 16 game coverage.
Getting it done on the ground
Thanks to the presence of Brian Westbrook, Duce Staley and Correll Buckhalter, Philadelphia head coach Andy Reid has switched the Eagles to a more run-oriented offensive attack.
We preview each of the BCS games, providing a scout's take on the players and in-depth analysis of each team.
Smashing debuts
PFW goes team-by-team, selecting each franchise's best rookie from the draft class of 2003.
Headed for Hawaii
Dan Arkush sounds off on the results of this year's Pro Bowl balloting in his weekly edition of The Slant.
Columnists
Jerry Magee
Glenn Dickey
Barry Jackson
Departments
The Way We Hear It
Q&A with Ahman Green
The Stretch Run
Handicapper's Corner
Week 17 game previews
Scout's Notebook: Vikings C Matt Birk
Pro prospects: defensive backs
Fantasy Buzz
Fantasy feature: Grading the RBs
Fantasy statistics
Week 16 game coverage: NFL standings; Players of the Week; Game-day review; On location; Question of the Week
Week 16 game statistics
Individual statistics
NFL team statistics
NFL team rankings
NFList
Audibles
NFL transactions
The Slant with Dan Arkush
PFW Online
PFW Online is the electronic version of our Pro Football Weekly print newsmagazine.
We publish 30 issues throughout the year, weekly during the season and monthly during the offseason, and these issues are made available to PFW Online members in PDF format.
Since our electronic edition is always available by 7 p.m. ET on the day that it's published, it's your fastest way to get an issue of Pro Football Weekly.
You'll have access to everything in our print edition in the same familiar look and feel, plus a fully-searchable and easy way to enjoy it.