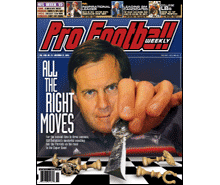 PFW Online: Vol. 18, Issue 23
Published: 2003-12-15
Cover Date: December 22, 2003
This is the issue for Week 16 previews and Week 15 game coverage.
Leading the Patriots' march
Associate editor Jeff Reynolds takes a look at New England head coach Bill Belichick and relates the background that has led him to his current perch among the league's top coaches.
With an inspirational book as the impetus, Bengals QB Jon Kitna has produced a season to remember in leading the Bengals back to respectability.
PFW's top GM candidates
PFW looks throughout the league at the best available personnel men — veterans and up-and-comers — who aspire to ascend to the GM position.
Great crop of LB prospects in 2004
With a pair of Miami (Fla.) stars leading the way, this year's draft appears to offer better depth at the LB position than in recent years.
Columnists
Mike Wilkening
Jerry Magee
Ron Borges
Bill Wallace
Reggie Rivers
Departments
The Way We Hear It
Q&A with Titans QB Steve McNair
Fantasy Buzz
Fantasy feature: Grading the WRs
Fantasy statistics
The Stretch Run
Handicapper's Corner
Week 16 game previews
Scout's Notebook: Miami DE Adewale Ogunleye
Week 15 game coverage: NFL standings; Players of the Week; Game-day review; On location; Question of the Week
Week 15 game statistics
Individual statistics
NFL team statistics
NFL team rankings
NFL List: Young tight ends
Audibles
NFL transactions
PFW Slant with Dan Arkush
PFW Online
PFW Online is the electronic version of our Pro Football Weekly print newsmagazine.
We publish 30 issues throughout the year, weekly during the season and monthly during the offseason, and these issues are made available to PFW Online members in PDF format.
Since our electronic edition is always available by 7 p.m. ET on the day that it's published, it's your fastest way to get an issue of Pro Football Weekly.
You'll have access to everything in our print edition in the same familiar look and feel, plus a fully-searchable and easy way to enjoy it.