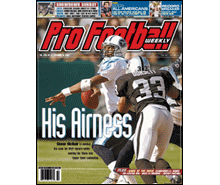 PFW Online: Vol. 18, Issue 22
Published: 2003-12-08
Cover Date: December 15, 2003
This is the issue for Week 15 previews and Week 14 game coverage.
McNair has newfound flair
Steve McNair has played at a high level in the past. But this season, Tennessee's quarterback has taken his game to new heights, as the Titans' offense has become more dependent on the passing attack.
PFW announces its 2003 All-America team, which features such collegiate stars as Jason White, Chris Perry, Larry Fitzgerald, Kellen Winslow Jr., Karlos Dansby and Nathan Vasher.
The Stretch Run
An analytical look at the top postseason contenders, including our momentum meter, this week's hot topic and a Q&A with Eagles DT Corey Simon.
Christian Okoye doesn't mind seeing some of his Chiefs rushing records fall as long as Kansas City keeps on winning.
Columnists
Jeff Fedotin
Jerry Magee
Glenn Dickey
Barry Jackson
Jim Campbell
Departments
The Way We Hear It
Q&A with Donovan McNabb
Handicapper's Corner
Week 15 game previews
Scout's Notebook: Saints RB Deuce McAllister
Fantasy Buzz
Fantasy statistics
Fantasy feature: Grading the tight ends
Pro prospects: defensive linemen
Week 14 game coverage: NFL standings; Players of the Week; Game-day reviews; On location; Question of the Week
Week 14 game statistics
Individual statistics
NFL team statistics
NFL team rankings
NFList: Best free safeties
Audibles
NFL transactions
PFW Slant with Dan Arkush
PFW Online
PFW Online is the electronic version of our Pro Football Weekly print newsmagazine.
We publish 30 issues throughout the year, weekly during the season and monthly during the offseason, and these issues are made available to PFW Online members in PDF format.
Since our electronic edition is always available by 7 p.m. ET on the day that it's published, it's your fastest way to get an issue of Pro Football Weekly.
You'll have access to everything in our print edition in the same familiar look and feel, plus a fully-searchable and easy way to enjoy it.