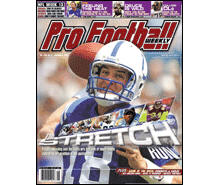 PFW Online: Vol. 18, Issue 21
Published: 2003-12-01
Cover Date: December 8, 2003
This is the issue for Week 14 previews and Week 13 game coverage.
In a matter of weeks, the field of NFL teams still playing will be whittled from 32 to 12, as the survivors of the regular season prepare to do battle in the playoffs. We put the microscope on each of the postseason contenders.
Is it hot in here or what?
As the regular season enters its final month, speculation about the job security of certain coaches is guaranteed to heat up. PFW looks at 10 coaches on the hot seat.
You can't beat the Bills
Columnist Don Pierson writes that Bill Parcells and Bill Belichick are the best coaches in the business.
Report card time
In the first installment of a weekly series, we look back at our preseason fantasy rankings and assign grades to players based on performance. This week: placekickers.
Columnists
Jeff Reynolds
Jerry Magee
Ron Borges
Don Pierson
Departments
The Way We Hear It
Q&A with Marvin Lewis
Handicapper's Corner
Week 14 game previews
Scout's Notebook: Ravens S Ed Reed
Fantasy Buzz
Fantasy statistics
Key college game
Pro prospects: offensive linemen
Week 13 game coverage: NFL standings; Player of the Week; Game-day reviews; On location; Question of the Week
Week 13 game statistics
Individual statistics
NFL team statistics
NFL team rankings
NFList: The best young offensive linemen
Audibles
NFL transactions
PFW Slant with Dan Arkush
PFW Online
PFW Online is the electronic version of our Pro Football Weekly print newsmagazine.
We publish 30 issues throughout the year, weekly during the season and monthly during the offseason, and these issues are made available to PFW Online members in PDF format.
Since our electronic edition is always available by 7 p.m. ET on the day that it's published, it's your fastest way to get an issue of Pro Football Weekly.
You'll have access to everything in our print edition in the same familiar look and feel, plus a fully-searchable and easy way to enjoy it.