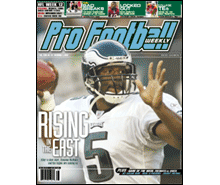 PFW Online: Vol. 18, Issue 20
Published: 2003-11-24
Cover Date: December 1, 2003
This is the issue for Week 13 previews and Week 12 game coverage.
Philly's back in business
After a surprising 0-2 start, the Eagles have righted the ship and battled back into contention in the NFC East. We deliver five reasons why Philadelphia should be considered a legitimate Super Bowl contender.
Injuries have played a major role in how this season has begun to shake out. We rank all 32 NFL teams in order of how badly they have been affected by medical issues in 2003, and announce our All-Injury Team.
Game of the Week
The Colts and Patriots, former division rivals prior to realignment, do battle in an AFC matchup that is sure to have playoff ramifications.
Pro prospects
Nolan Nawrocki previews the best collegiate tight ends expected to be available in April's NFL draft.
Columnists
Nolan Nawrocki
Jerry Magee
Glenn Dickey
Barry Jackson
Departments
The Way We Hear It
Handicapper's Corner
Week 13 game previews
Scout's Notebook: Bengals RB Rudi Johnson
Fantasy Buzz
Fantasy statistics
Key college game
Week 12 game coverage: NFL standings; Player of the Week; Game-day reviews; On location; Question of the Week
Week 12 game statistics
Individual statistics
NFL team statistics
NFL team rankings
Q&A with Ronde Barber
NFList: Best short-yardage defenders
Audibles
NFL transactions
PFW Slant with Dan Arkush
PFW Online
PFW Online is the electronic version of our Pro Football Weekly print newsmagazine.
We publish 30 issues throughout the year, weekly during the season and monthly during the offseason, and these issues are made available to PFW Online members in PDF format.
Since our electronic edition is always available by 7 p.m. ET on the day that it's published, it's your fastest way to get an issue of Pro Football Weekly.
You'll have access to everything in our print edition in the same familiar look and feel, plus a fully-searchable and easy way to enjoy it.