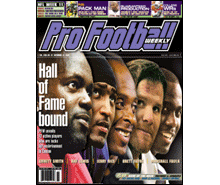 PFW Online: Vol. 18, Issue 19
Published: 2003-11-17
Cover Date: November 24, 2003
This is the issue for Week 12 previews and Week 11 game coverage.
Hall-worthy
We're watching living legends when we see players like Brett Favre, Ray Lewis and Marshall Faulk. They — along with just a few other gridiron greats of today — are PFW's locks to be inducted into the Pro Football Hall of Fame after their retirement.
It's not easy being Green
RB Ahman Green may have some troubles holding on to the ball, but he is posting monster numbers in Green Bay's highly successful offensive attack.
Chad Johnson's mouth may always be working overtime, but he's more than made up for his controversial comments with his high level of productivity.
Parcells' project
Columnist Ron Borges writes that Bill Parcells has worked wonders this season with QB Quincy Carter, who has exceeded all expectations thus far.
Columnists
Eric Edholm
Reggie Rivers
Jerry Magee
Bill Wallace
Ron Borges
Departments
The Way We Hear It
Q&A with Dwight Freeney
Key college game
Top WR prospects
Fantasy Buzz
Fantasy statistics
Handicapper's Corner
Week 12 game previews
Scout's Notebook: Jets WR Santana Moss
Canadian Football League: Grey Cup coverage
Week 11 game coverage: NFL standings; Players of the Week; Game-day reviews; On location; Question of the Week
Week 11 game statistics
Individual statistics
NFL team statistics
NFL team rankings
Audibles
NFL transactions
PFW Slant with Dan Arkush
PFW Online
PFW Online is the electronic version of our Pro Football Weekly print newsmagazine.
We publish 30 issues throughout the year, weekly during the season and monthly during the offseason, and these issues are made available to PFW Online members in PDF format.
Since our electronic edition is always available by 7 p.m. ET on the day that it's published, it's your fastest way to get an issue of Pro Football Weekly.
You'll have access to everything in our print edition in the same familiar look and feel, plus a fully-searchable and easy way to enjoy it.