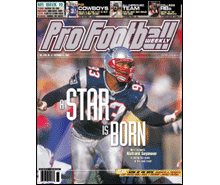 PFW Online: Vol. 18, Issue 18
Published: 2003-11-10
Cover Date: November 17, 2003
This is the issue for Week 11 previews and Week 10 game coverage.
Taking it to the next level
The Patriots expected to get a star in the making when they drafted Richard Seymour in the first round of the 2001 draft. They are now witnessing their young stud become a dominant NFL defensive lineman.
For the most part, Bill Parcells left well enough alone when it came to the Cowboys' defense. His decision is paying off, as Dallas has one of the toughest squads in the NFL.
Getting better all the time
Prior to this season, you may not have known much about some of the players on our All-Improved Team. But you will be hearing a lot about them from now on.
Top RB prospects
Nolan Nawrocki delivers the skinny on the best college rushers headed for the 2004 NFL draft.
Columnists
Trent Modglin
Jerry Magee
Glenn Dickey
Barry Jackson
Bob Carroll
Departments
The Way We Hear It
Q&A with Stephen Davis
Fantasy Buzz
Fantasy statistics
Handicapper's Corner
Week 11 game previews
Scout's Notebook: Chiefs LB Shawn Barber
Canadian Football League
Key college game
Week 10 game coverage: NFL standings; Players of the Week; Game-day reviews; On location; Question of the Week
Week 10 game statistics
Individual statistics
Team statistics
Team rankings
Audibles
NFL transactions
PFW Slant with Dan Arkush
PFW Online
PFW Online is the electronic version of our Pro Football Weekly print newsmagazine.
We publish 30 issues throughout the year, weekly during the season and monthly during the offseason, and these issues are made available to PFW Online members in PDF format.
Since our electronic edition is always available by 7 p.m. ET on the day that it's published, it's your fastest way to get an issue of Pro Football Weekly.
You'll have access to everything in our print edition in the same familiar look and feel, plus a fully-searchable and easy way to enjoy it.