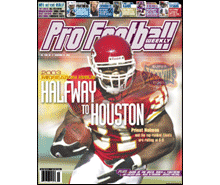 PFW Online: Vol. 18, Issue 17
Published: 2003-11-03
Cover Date: November 10, 2003
This is the Mid-season Awards issue with Week 10 previews and Week Nine game coverage.
Priest Holmes is just one of five Chiefs players to be named to Pro Football Weekly's honors squad at the midpoint of the NFL season.
We take a spin around the league halfway through the 2003 season. What are the big stories, and who are the key players? Read on to find out.
PFW associate editor Ken Bikoff insists that Titans QB Steve McNair is the undisputed MVP of the first half of the season.
It's never too early to start thinking about the draft. Nolan Nawrocki gets the ball rolling with the first of his weekly series previewing the top prospects at each position.
Eric Edholm
Jerry Magee
Ron Borges
Don Pierson
Departments
The Way We Hear It
Q&A with Tom Brady
News feature: NFL fall meeting roundup
Handicapper's Corner
Week 10 game previews
Scout's Notebook: Bills RB Travis Henry
Key college games
Week Nine game coverage: NFL standings; Players of the Week; Game-day reviews; On location; Question of the Week
Week Nine game statistics
Individual statistics
NFL team statistics
NFL team rankings
Fantasy Buzz
Fantasy statistics
Audibles
NFL transactions
Canadian Football League
PFW Slant with Dan Arkush
PFW Online
PFW Online is the electronic version of our Pro Football Weekly print newsmagazine.
We publish 30 issues throughout the year, weekly during the season and monthly during the offseason, and these issues are made available to PFW Online members in PDF format.
Since our electronic edition is always available by 7 p.m. ET on the day that it's published, it's your fastest way to get an issue of Pro Football Weekly.
You'll have access to everything in our print edition in the same familiar look and feel, plus a fully-searchable and easy way to enjoy it.