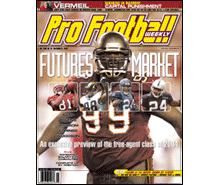 PFW Online: Vol. 18, Issue 16
Published: 2003-10-27
Cover Date: Novemebr 3, 2003
This is the issue for Week Nine previews and Week Eight game coverage.
Sneak peek at the free agents
It's never too early to start thinking about the offseason, so we offer up our ultra-early preview of the free-agent class of 2004. Team-by-team and position-by-position lists accompany analysis of each team's priorities.
Commanding the Chiefs
Dick Vermeil has a proven ability to relate to his players, and it's paying off for Kansas City.
Virginia Tech vs. Miami
Can the Hokies bounce back from their stunning loss at West Virginia? Nolan Nawrocki gives a scout's perspective on one of this season's marquee matchups.
Catch all of the hottest trends, tips and rumors in this week's edition of the Fantasy Buzz.
Jeff Reynolds
Mike Wilkening
Jerry Magee
Barry Jackson
Departments
The Way We Hear It
Q&A with Daunte Culpepper
Handicapper's Corner
Week Nine game previews
Scout's Notebook: Rams DE Leonard Little
Fantasy statistics
Week Eight game coverage: NFL standings; Players of the Week; Game-day reviews; On location; Question of the Week
Week Eight game statistics
Individual statistics
NFL team statistics
NFL team rankings
Audibles
Canadian Football League
NFL transactions
PFW Slant with Dan Arkush
PFW Online
PFW Online is the electronic version of our Pro Football Weekly print newsmagazine.
We publish 30 issues throughout the year, weekly during the season and monthly during the offseason, and these issues are made available to PFW Online members in PDF format.
Since our electronic edition is always available by 7 p.m. ET on the day that it's published, it's your fastest way to get an issue of Pro Football Weekly.
You'll have access to everything in our print edition in the same familiar look and feel, plus a fully-searchable and easy way to enjoy it.