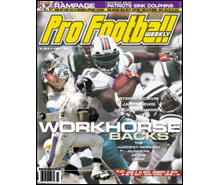 PFW Online: Vol. 18, Issue 15
Published: 2003-10-20
Cover Date: October 27, 2003
This is the issue for Week Eight previews and Week Seven game coverage.
Play after play, carry after carry, Stephen Davis, Jamal Lewis and Ricky Williams seem to get the ball. We profile the workhorse backs who have become the focal point of their teams' offenses.
Ram wideout on a rampage
With a new contract in hand, St. Louis WR Torry Holt is out to prove he deserves the big bucks and should be considered one of the NFL's elite wide receivers.
Speed was Don Beebe's ticket into the NFL, and it helped him stick in the league for nine seasons. Now he spends his days trying to improve the speed of others.
Catch this buzz, which includes the best notes, tips and matchup advice available anywhere for all of the Week Eight action.
Ken Bikoff
Jerry Magee
Ron Borges
Bill Wallace
Reggie Rivers
Departments
The Way We Hear It
Q&A with Dante Hall
Handicapper's Corner
Week Eight game previews
Scout's Notebook: Seahawks QB Matt Hasselbeck
Fantasy statistics
Fantasy Ask the Experts
Key college games
Week Seven game coverage: NFL standings; Players of the Week; Game-day reviews; On location; Question of the Week
Week Seven game statistics
Individual statistics
NFL team statistics
NFL team rankings
Audibles
Canadian Football League
NFL transactions
PFW Slant with Dan Arkush
PFW Online
PFW Online is the electronic version of our Pro Football Weekly print newsmagazine.
We publish 30 issues throughout the year, weekly during the season and monthly during the offseason, and these issues are made available to PFW Online members in PDF format.
Since our electronic edition is always available by 7 p.m. ET on the day that it's published, it's your fastest way to get an issue of Pro Football Weekly.
You'll have access to everything in our print edition in the same familiar look and feel, plus a fully-searchable and easy way to enjoy it.