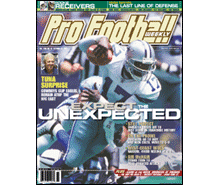 PFW Online: Vol. 18, Issue 14
Published: 2003-10-13
Cover Date: October 20, 2003
This is the issue for Week Seven previews and Week Six game coverage.
Dan Arkush hits on the Cowboys' shocking first-place position in the NFC East, the three remaining unbeaten teams and the reeling Raiders in his weekly edition of The Slant.
Rookie WRs don't always contribute right away. But Anquan Boldin and Andre Johnson have made their presence felt immediately. We update you on the 2003 rookie-WR class and look ahead to the '04 WR crop.
Young safeties
An infusion of young talent at the safety position has hit the NFL. Meet the top youngsters at that spot and learn how a safety's job description has changed in recent years.
Running away in the NFC South
PFW editor Mike Wilkening sounds off from Indianapolis, where the hard-running Panthers beat the Colts to move to 5-0.
Columnists
Andy Hanacek
Jerry Magee
Glenn Dickey
Barry Jackson
Jim Campbell
Departments
The Way We Hear It
Q&A with Tommy Maddox
Key college games
Handicapper's Corner
Week Seven game previews
Scout's Notebook: Chargers CB Quentin Jammer
Fantasy feature: News and notes
The Fantasy Buzz
Fantasy statistics
Week Six game coverage: NFL standings; Players of the Week; Game-day reviews; On location; Question of the Week
Week Six game statistics
Individual statistics
NFL team statistics
NFL team rankings
Audibles
Canadian Football League
NFL transactions
PFW Online
PFW Online is the electronic version of our Pro Football Weekly print newsmagazine.
We publish 30 issues throughout the year, weekly during the season and monthly during the offseason, and these issues are made available to PFW Online members in PDF format.
Since our electronic edition is always available by 7 p.m. ET on the day that it's published, it's your fastest way to get an issue of Pro Football Weekly.
You'll have access to everything in our print edition in the same familiar look and feel, plus a fully-searchable and easy way to enjoy it.