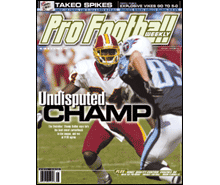 PFW Online: Vol. 18, Issue 13
Published: 2003-10-06
Cover Date: October 13, 2003
This is the issue for Week Six previews and Week Five game coverage.
Bailey blankets opposing WRs
Three-time Pro Bowl CB Champ Bailey has played an integral role in the Redskins' resurgent defense and is proving more than worthy of a multiyear pact following his contract year.
Feeling reborn in Buffalo
Bills LB Takeo Spikes has put five losing seasons in Cincinnati behind him and has high hopes for his new team.
The life of a quality-control coach in the NFL
PFW takes an in-depth look at some of the unsung assistant coaches in the NFL and their roles in the success — and failure — of their teams.
Is Brett Favre nearing the end?
The future Hall-of-Famer is beginning to show his age. But Jeff Reynolds says he is still as dangerous as ever for opposing defenses.
Columnists
Jerry Magee
Ron Borges
Don Pierson
Departments
The Way We Hear It
Whispers
Q&A with Emmitt Smith
Handicapper's Corner
Week Six game previews
Scout's Notebook: Rams QB Marc Bulger
Key college games
The Fantasy Buzz
Fantasy statistics
Canadian Football League
Week Five game coverage: NFL standings; Players of the Week; Game-day reviews; On location; Question of the Week
Week Five game statistics
Individual statistics
NFL team statistics
NFL team rankings
Audibles
NFL transactions
PFW Slant with Dan Arkush
PFW Online
PFW Online is the electronic version of our Pro Football Weekly print newsmagazine.
We publish 30 issues throughout the year, weekly during the season and monthly during the offseason, and these issues are made available to PFW Online members in PDF format.
Since our electronic edition is always available by 7 p.m. ET on the day that it's published, it's your fastest way to get an issue of Pro Football Weekly.
You'll have access to everything in our print edition in the same familiar look and feel, plus a fully-searchable and easy way to enjoy it.