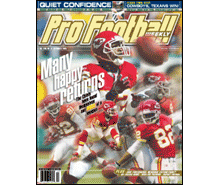 PFW Online: Vol. 18, Issue 12
Published: 2003-09-29
Cover Date: October 6, 2003
This is the issue for Week Five previews and Week Four game coverage.
Kansas City's spark plug
Dante Hall has provided a huge lift to the Chiefs with his sensational return skills. A prolific runner with sizzling moves, Hall is making a habit of taking returns all the way to the house.
Blocking backs
The FB position goes largely unnoticed by fans, with tailbacks getting most of the glory.Will the most undervalued position in football make a comeback?
Taking command
Marc Bulger has passed Kurt Warner on the Rams' depth chart primarily because he has been the quarterback who has led the team to victory.
Where are they now?
From "Paper Lion" to "Webster," Alex Karras knows that his NFL career helped open the door for his acting career.
Columnists
Eric Edholm
Jerry Magee
Glenn Dickey
Barry Jackson
Departments
The Way We Hear It
Q&A with Terry Bradshaw
Handicapper's Corner
Week Five game previews
Scout's Notebook: Panthers DE Mike Rucker
The Fantasy Buzz
Fantasy statistics
Fantasy feature: Early-season disappointments
Week Four game coverage: NFL standings; Players of the Week Game-day reviews; Great debate; Fans' forum
Week Four game statistics
Individual statistics
NFL team statistics
NFL team rankings
Key college games
Canadian Football League
Audibles
NFL transactions
PFW Slant with Dan Arkush
PFW Online
PFW Online is the electronic version of our Pro Football Weekly print newsmagazine.
We publish 30 issues throughout the year, weekly during the season and monthly during the offseason, and these issues are made available to PFW Online members in PDF format.
Since our electronic edition is always available by 7 p.m. ET on the day that it's published, it's your fastest way to get an issue of Pro Football Weekly.
You'll have access to everything in our print edition in the same familiar look and feel, plus a fully-searchable and easy way to enjoy it.