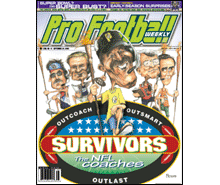 PFW Online: Vol. 18, Issue 11
Published: 2003-09-22
Cover Date: September 29, 2003
This is the issue for Week Four previews and Week Three game coverage.
Survivors on the sideline
Just five NFL head coaches have served with their current team more than five years.We profile Bill Cowher, Jeff Fisher, Mike Shanahan, Dan Reeves and Jim Fassel and then look at the status of the other 27 coaches.
Still high hopes in Philly
Despite two losses in their brand-new stadium, the Eagles still expect to be playing in the Super Bowl next February. But to accomplish that, many things need to be fixed.
Off to a fast start
Three weeks does not a season make. But three weeks may be enough time to tell you which fantasy football players are in for very productive season.
Inside the mind of an NFL scout
Associate editor Nolan Nawrocki polled league execs, trying to determine the most important trait in a pro prospect.
Columnists
Nolan Nawrocki
Reggie Rivers
Jerry Magee
Bill Wallace
Ron Borges
Departments
The Way We Hear It
Q&A with Matt Hasselbeck
Handicapper's Corner
Week Four game previews
Scout's Notebook: Redskins QB Patrick Ramsey
The Fantasy Buzz
Fantasy statistics
Week Three game coverage: NFL standings; Players of the Week; Game-day reviews; Great debate; Fans' forum
Week Three game statistics
Individual statistics
NFL team statistics
NFL team rankings
Key college games
Audibles
NFL transactions
PFW slant with Dan Arkush
PFW Online
PFW Online is the electronic version of our Pro Football Weekly print newsmagazine.
We publish 30 issues throughout the year, weekly during the season and monthly during the offseason, and these issues are made available to PFW Online members in PDF format.
Since our electronic edition is always available by 7 p.m. ET on the day that it's published, it's your fastest way to get an issue of Pro Football Weekly.
You'll have access to everything in our print edition in the same familiar look and feel, plus a fully-searchable and easy way to enjoy it.