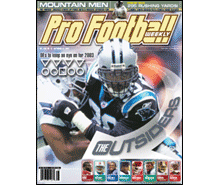 PFW Online: Vol. 18, Issue 10
Published: 2003-09-15
Cover Date: September 22, 2003
This is the issue for Week Three previews and Week Two game coverage.
The storylines and subplots are varied, but there are a host of interesting defensive ends to keep an eye on this season. PFW profiles five star players who are at different points in their careers, and then serves up a slew of ends who deserve some extra attention in 2003.
Minnesota's mountain men
The Vikings' explosive offense features the likes of Daunte Culpepper and Randy Moss. But Minnesota's success starts up front with a monstrous offensive line.
Good deeds
Chiefs FB Tony Richardson has done a lot of good through his Rich In Spirit Foundation, and he is honored with the 2003 Arthur S. Arkush Humanitarian of the Year Award.
Fantasy football
Get the latest tips and trends for the matchups of Week Three in this issue's edition of the Fantasy Buzz.
Columnists
Trent Modglin
Bob Carroll
Glenn Dickey
Barry Jackson
Jerry Magee
Departments
The Way We Hear
Handicapper's Corner
Week Three game previews
Scout's Notebook: Vikings WR Randy Moss
Ask the Fantasy Doctor
Ask the Experts
Key college games
Week Two game coverage: NFL standings; Players of the Week; Game-day reviews; Great debate; Fans' forum
Week Two game statistics
Individual statistics
NFL team statistics
NFL team rankings
Audibles
Canadian Football League
NFL transactions
PFW Slant with Dan Arkush
PFW Online
PFW Online is the electronic version of our Pro Football Weekly print newsmagazine.
We publish 30 issues throughout the year, weekly during the season and monthly during the offseason, and these issues are made available to PFW Online members in PDF format.
Since our electronic edition is always available by 7 p.m. ET on the day that it's published, it's your fastest way to get an issue of Pro Football Weekly.
You'll have access to everything in our print edition in the same familiar look and feel, plus a fully-searchable and easy way to enjoy it.