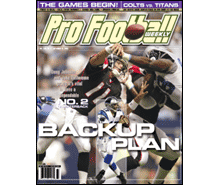 PFW Online: Vol. 18, Issue 09
Published: 2003-09-08
Cover Date: September 15, 2003
This is the issue for Week Two previews and Week One game coverage.
The Falcons' success in the first month of the season rests partially on the shoulders of backup QB Doug Johnson. PFW examines whether he has what it takes, as well what the backup QB situations look like in every other NFL city.
Tomlinson is the top pick!
Get an exclusive look at how the Pro Football Weekly fantasy draft unfolded, along with a team-by-team analysis by the Fantasy Doctor.
Spotlight on the AFC South
The Titans and Colts match up in our Week Two Game of the Week, a contest that is sure to have playoff ramifications.
Notre Dame vs. Michigan
Nolan Nawrocki spotlights some of the pro prospects whose skills will be on display when the Irish and the Wolverines take the field in this key college game.
Columnists
Mike Wilkening
Ken Bikoff
Jerry Magee
Ron Borges
Don Pierson
Departments
The Way We Hear It
Q&A with Bucs QB Brad Johnson
The Fantasy Buzz
Ask the Fantasy Doctor
Handicapper's Corner
Week Two game previews
Scout's Notebook: Redskins WR Laveranues Coles
NFL rosters
Week One game coverage: NFL standings; Game-day reviews Players of the Week
Week One game statistics
Individual statistics
NFL team statistics
NFL team rankings
Audibles
NFL transactions
Canadian Football League
PFW slant with Dan Arkush
PFW Online
PFW Online is the electronic version of our Pro Football Weekly print newsmagazine.
We publish 30 issues throughout the year, weekly during the season and monthly during the offseason, and these issues are made available to PFW Online members in PDF format.
Since our electronic edition is always available by 7 p.m. ET on the day that it's published, it's your fastest way to get an issue of Pro Football Weekly.
You'll have access to everything in our print edition in the same familiar look and feel, plus a fully-searchable and easy way to enjoy it.