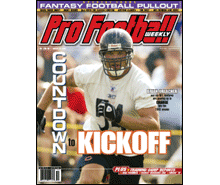 PFW Online: Vol. 18, Issue 07
Published: 2003-08-18
Cover Date: August 25, 2003
This is the third fantasy football issue of the season and the third installment of training-camp reports.
Fantasy Buzz
Basic mock draft
Draft board
Auction league price list
What do NFL players think of fantasy football?
Second-year players
Q&A with the Fantasy Doctor
Closing up camp
With training camps wrapping up and preseason games well under way, we take a spin around the NFL and identify each team's biggest positive and biggest disappointment, provide an injury update and identify a rookie to watch.
Plummer winning over the Broncos
Players in Denver have responded favorably to Jake Plummer, who is much different than his predecessor.
No more 'Heavy Lunch Bunch'
The Saints have decided to scrap last year's underachieving defensive line in favor of a speedier front four.
Ditching the '32' defense
Shawn Barber and Vonnie Holliday are expected to upgrade the NFL's lowest-ranked defense in 2002.
Columnists
Mike Holbrook
Bill Wallace
Mike Wilkening
Jerry Magee
Ron Borges
Reggie Rivers
Departments
The Way We Hear It
Ask the Experts
Feature: Where's Ricky Watters?
Preseason game coverage
Audibles
Key college games
Canadian Football League
Letters to the editor
NFL transactions
First-rounders' signing chart
PFW slant with Dan Arkush
PFW Online
PFW Online is the electronic version of our Pro Football Weekly print newsmagazine.
We publish 30 issues throughout the year, weekly during the season and monthly during the offseason, and these issues are made available to PFW Online members in PDF format.
Since our electronic edition is always available by 7 p.m. ET on the day that it's published, it's your fastest way to get an issue of Pro Football Weekly.
You'll have access to everything in our print edition in the same familiar look and feel, plus a fully-searchable and easy way to enjoy it.