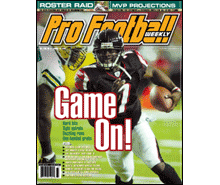 PFW Online: Vol. 18, Issue 06
Published: 2003-08-11
Cover Date: August 15, 2003
This is the second installment of training-camp reports for this season.
Summer workouts are heating up
In our second up-close look at NFL training camps, PFW identifies a veteran to watch on each team, in addition to a player on the verge of breaking through and every team's strongest and weakest positions.
Art Modell's NFL swan song
Expected to sell his team following the 2003 season, the Baltimore Ravens' owner is preparing for his last campaign in control of the franchise he has led since 1961.
Which players will emerge as their team's offensive and defensive most valuable players?
The Redskins irked the Jets during the offseason by signing four free agents away from them.We look at how the new Skins fit in Washington, and what the Jets are doing to replace them as the teams prepare to kick off the NFL season.
Columnists
Jerry Magee
Glenn Dickey
Barry Jackson
Jim Campbell
Departments
Q&A with ESPN's Chris Berman
The Chargers' new-look defense
Jaguars head coach Jack Del Rio
Breakthrough assistant coaches
Young talent on the Raiders
The Giants' revamped special teams
Kordell Stewart attempts to revive his career with the Bears
The Way We Hear It
Fantasy football: Ask the Fantasy Doctor
Preseason game coverage
Audibles
Canadian Football League
First-rounders' signing chart
NFL transactions
PFW Slant with Dan Arkush
PFW Online
PFW Online is the electronic version of our Pro Football Weekly print newsmagazine.
We publish 30 issues throughout the year, weekly during the season and monthly during the offseason, and these issues are made available to PFW Online members in PDF format.
Since our electronic edition is always available by 7 p.m. ET on the day that it's published, it's your fastest way to get an issue of Pro Football Weekly.
You'll have access to everything in our print edition in the same familiar look and feel, plus a fully-searchable and easy way to enjoy it.