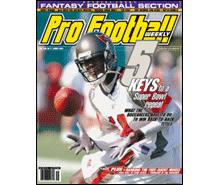 PFW Online: Vol. 18, Issue 05
Published: 2003-07-28
Cover Date: August 2003
This is the second fantasy football issue of the season.
Fantasy football section
The Fantasy Buzz
Q&A with the Fantasy Doctor
New starting quarterbacks
What does the NFL think of fantasy?
Draft board
Drop-off points at each position
Yardage-league mock draft
Ask the Experts
Defensive feature and draft board
Skill-position value charts
Twice as nice?
The Buccaneers have their hearts and minds set on one thing — a return trip to the Super Bowl. PFW points out what it will take for Tampa Bay to achieve its goal, and columnist Jeff Reynolds looks at what it takes to beat the defending NFL champions.
Players on the move
We sifted through all of the free agents who switched teams and examined each blockbuster trade to determine the NFL's top 25 offseason moves of 2003.
Right tackle merry-go-round
Approximately one third of the 32 NFL teams will feature a new player manning the oh-so-important ORT position this season.
Columnists
Bill Wallace
Don Pierson
Jerry Magee
Ron Borges
Departments
The Way We Hear It
Hall of Fame capsules
Audibles
Canadian Football League
NFL transactions
First-rounders' signing chart
PFW slant with Dan Arkush
PFW Online
PFW Online is the electronic version of our Pro Football Weekly print newsmagazine.
We publish 30 issues throughout the year, weekly during the season and monthly during the offseason, and these issues are made available to PFW Online members in PDF format.
Since our electronic edition is always available by 7 p.m. ET on the day that it's published, it's your fastest way to get an issue of Pro Football Weekly.
You'll have access to everything in our print edition in the same familiar look and feel, plus a fully-searchable and easy way to enjoy it.