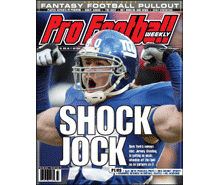 PFW Online: Vol. 18, Issue 03
Published: 2003-06-30
Cover Date: July 2003
This is the first fantasy football issue of the season.
Fantasy football section
Player analysis
2003 draft board
The Buzz
2002 statistics
An NFL phenom in the making
Jeremy Shockey took the NFL by storm as a rookie last season. Now, the Giants' talented but brash tight end intends to become even more of a force — both on and off the field.
A handful of NFL head coaches wear multiple hats, also serving as general manager. Find out how Mike Sherman, Butch Davis and Andy Reid make it work.
Building a better 'D' in Buffalo
Adding the likes of Takeo Spikes, Sam Adams, Jeff Posey and Chris Kelsay should give the Bills a defense that will be on par with their offense.
There's a new coach in town
Ray Rhodes brings decades of defensive wisdom to a unit in Seattle that was badly in need of a new philosophy.
Departments
The Way We Hear It
Free-agency update
NFL Europe coverage: World Bowl; All-NFLE team; season-in-review
Arena football
CFL
Q&A with Peerless Price
Audibles
NFL transactions
PFW slant with Dan Arkush
PFW Online
PFW Online is the electronic version of our Pro Football Weekly print newsmagazine.
We publish 30 issues throughout the year, weekly during the season and monthly during the offseason, and these issues are made available to PFW Online members in PDF format.
Since our electronic edition is always available by 7 p.m. ET on the day that it's published, it's your fastest way to get an issue of Pro Football Weekly.
You'll have access to everything in our print edition in the same familiar look and feel, plus a fully-searchable and easy way to enjoy it.