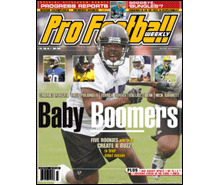 PFW Online: Vol. 18, Issue 02
Published: 2003-06-02
Cover Date: June 2003
This is a free agency issue.
We polled several NFL insiders, asking them to identify which rookies will explode onto the scene in their debut pro season. The experts predict that Charles Rogers, Terrell Suggs, Troy Polamalu, Dallas Clark and Nick Barnett will be first-year sensations.
A new era in Cincinnati
New head coach Marvin Lewis is putting his fingerprints all over a Bengals franchise that has been stuck in reverse for more than a decade.
A team-by-team look at what each franchise has accomplished in the offseason, as well as what work still needs to be done.
The road may have been a bit rocky, but it finally appears as if Matt Hasselbeck is ready to live up to expectations.
Columnists
Trent Modglin
Jerry Magee
Glenn Dickey
Barry Jackson
Bob Carroll
Jim Campbell
Departments
The Way We Hear It
Free-agency update
Canadian Football League: 2003 season preview
Audibles
Arena Football
NFL transactions
PFW slant with Dan Arkush
PFW Online
PFW Online is the electronic version of our Pro Football Weekly print newsmagazine.
We publish 30 issues throughout the year, weekly during the season and monthly during the offseason, and these issues are made available to PFW Online members in PDF format.
Since our electronic edition is always available by 7 p.m. ET on the day that it's published, it's your fastest way to get an issue of Pro Football Weekly.
You'll have access to everything in our print edition in the same familiar look and feel, plus a fully-searchable and easy way to enjoy it.