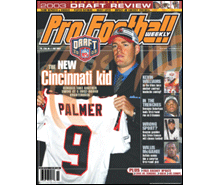 PFW Online: Vol. 18, Issue 01
Published: 2003-05-05
Cover Date: May 2003
This is the 2003 NFL post-draft issue.
Draft overview
Team-by-team analysis
Eric Edholm column: Bengals deserve praise; Drew Henson pick could pay off
Mike Holbrook column: Something definitely was missing at htis year's draft
Ask the Experts: Which team had the most intriguing draft?
Final player printout
Draft list by position
Round-by-round draft list
Then and now
Prep football analyst Tom Lemming recalls his impressions of this year's first-round draft picks as they were leaving high school.
Columnists
Ken Bikoff
Jerry Magee
Ron Borges
Don Pierson
Departments
The Way We Hear It
Fantasy football coverage: An early look at the rookies
Free-agency update
2003 team-by-team schedules
2003 week-by-week schedules
Arena Football
NFL Europe
Audibles
Transactions
The Slant with Dan Arkush
PFW Online
PFW Online is the electronic version of our Pro Football Weekly print newsmagazine.
We publish 30 issues throughout the year, weekly during the season and monthly during the offseason, and these issues are made available to PFW Online members in PDF format.
Since our electronic edition is always available by 7 p.m. ET on the day that it's published, it's your fastest way to get an issue of Pro Football Weekly.
You'll have access to everything in our print edition in the same familiar look and feel, plus a fully-searchable and easy way to enjoy it.