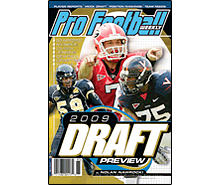 PFW Special: 2009 Draft Preview
Published: 2009-03-17
Cover Date: Spring 2009
2009 Draft Preview
This soft-cover book is the most authoritative book on the NFL draft and is written by Nolan Nawrocki and the editors of Pro Football Weekly. This electronic edition is being offered as a free premium to our full-year PFW Online subscribers. If you aren't already an online subscriber and wish to subscribe, just click here. You can also purchase a copy of the electronic edition in the PFW Store.
Scouting reports

Quarterbacks
Running backs
Wide receivers
Tight ends
Offensive linemen
Defensive linemen
Linebackers
Defensive backs
Specialists
2009 draft overview
NFL teams' 2009 draft needs
Mock draft
Player printout
player rankings by position
Player rankings regardless of position
Glossary
Alphabetical player index
PFW Online
PFW Online is the electronic version of our Pro Football Weekly print newsmagazine.
We publish 30 issues throughout the year, weekly during the season and monthly during the offseason, and these issues are made available to PFW Online members in PDF format.
Since our electronic edition is always available by 7 p.m. ET on the day that it's published, it's your fastest way to get an issue of Pro Football Weekly.
You'll have access to everything in our print edition in the same familiar look and feel, plus a fully-searchable and easy way to enjoy it.