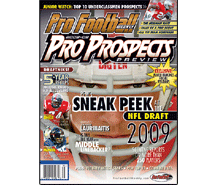 PFW Special: 2008-2009 Pro Prospects Preview
Published: 2008-08-29
Cover Date: Summer 2008
2008-2009 Pro Prospects Preview
Full-color magazine in easy-to-navigate PDF format
The electronic edition is being offered as a free premium to our full-year PFW Online subscribers. If you aren't already an online subscriber and wish to subscribe, just click here. You can also purchase a copy of the electronic edition in the PFW Store.
In-depth scouting reports for nearly 250 players
Kickoff section
The fantasy stars of tomorrow
Five-year NFL Combine data
Q&A with Virginia OT Eugene Monroe
Heisman Watch
Classic scouting report: Bob Sanders
Postseason all-star games
NFList: Best undrafted free agents
PFW's Top 10 college teams
Also:
The year of the inside linebacker
Stories from the scouting trail
Ole Miss' diamond in the rough — Michael Oher
Draft overview
Underclassmen to watch
Team reports — How each NFL team has drafted the past five years and a look to the future
PFW Online
PFW Online is the electronic version of our Pro Football Weekly print newsmagazine.
We publish 30 issues throughout the year, weekly during the season and monthly during the offseason, and these issues are made available to PFW Online members in PDF format.
Since our electronic edition is always available by 7 p.m. ET on the day that it's published, it's your fastest way to get an issue of Pro Football Weekly.
You'll have access to everything in our print edition in the same familiar look and feel, plus a fully-searchable and easy way to enjoy it.